Counting Screws and Sewing Sails
Yesterday three very large boxes arrived on the back of an semi-trailer containing the worlds flattest boat. Or at least proto-boat.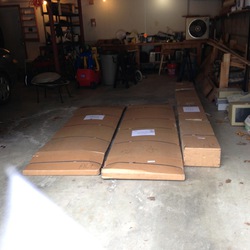 It's a kit for a 11' 2" Shellback sailing dinghy, a plywood lapstrake boat designed by Joel White (E. B. White's son, among other things). The kit is CNC routed out of marine grade plywood by Chesapeake Light Craft in Maryland (pics below).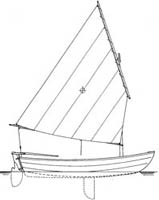 The first thing to do was to unpack it all and figure out what all of the many carefully cut pieces of mahogany are supposed to be. Here are a couple of photos of the unboxing:
You can see that the center frame and the stem lamination is already done and plank scarfs are precut and ready to glue. The CNC router is able to cut the scarfs to a feather edge.
It takes a couple of weeks from the time you order for the kit to be produced, so in the mean time I've been working on a sail for her. This is also a computer cut kit, this time from Sailrite, who produces sails kits for a huge number of craft of all sizes.